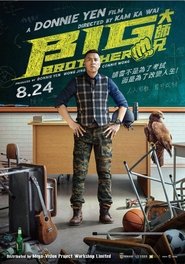 Big Brother
A soldier-turned-high school teacher uses unusual methods to reach to a class of poor students, while dealing with a greedy entrepreneur and his gang of fighters as well as the government.
Duration: 101 min
Release: 2018
Sketch
Sketch
The fate of four friends, who work at a garage, witness drastic changes after they lock horns with a dreaded gangster in town
Nene Raju Nene Mantri
The Wave
Five Weeks in a Balloon
Scout: A Star Wars Story
Scout: A Star Wars Story
"Scout: A Star Wars Story" tells the tale of Dax Orrell, a soldier on The Forest Moon of Endor, during Return of the Jedi. Dax wakes up in a daze,…
Born To Race
Born To Race
Born To Race is the story of Danny Krueger, a rebellious young street racer on a collision course with trouble. After an accident at an illegal street race, he is…
Jodhaa Akbar
Deuces Wild
Dragon Blade
Dragon Blade
Huo An, the commander of the Protection Squad of the Western Regions, was framed by evil forces and becomes enslaved. On the other hand, a Roman general escapes to China…
Flight World War II
Flight World War II
International Flight 42 is on course, when all of a sudden a massive and weird storm crops up around the plane. This sends the plane back in time to the…
Army Dog
Army Dog
A brave Army dog returns to the U.S., where he helps his heroic handler bond with his resentful daughter on a camping trip despite danger lurking around every corner.
Hired to Kill
Hired to Kill
A fashion photographer and seven models travel to a South American island fortress, ostensibly to do a fashion shoot. In reality, the photographer is a mercenary and their job is…